Thursday evening, October 23: Early Live and Let 'Leans arrivals gather for Martinis And Shop Talk at (or under) The Sazerac Bar at The Roosevelt New Orleans. Named after the world's first mixed drink, The Sazerac Bar carries as much lore as its potable namesake. All weapons must be checked at the door, to ensure full magazines. Dinner and mayhem to follow. A night to live in infamy–if we remember it the next day! (Of course, we're joking, OO7.)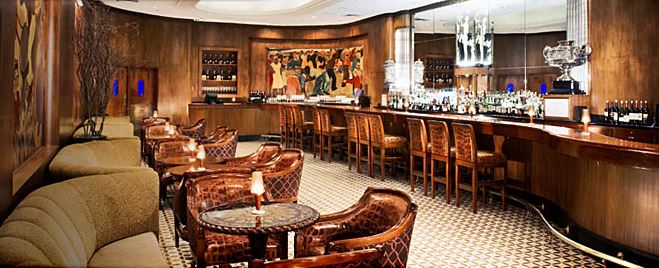 Shall I open it?
Friday, October 24: Group luncheon and fan meet in New Orleans. Next, we cross the Mississippi River and Lake Ponchartrain for the Louisiana Locations Tour including brilliant chase scenes from Live and Let Die. After, limit yourself to a five-course dinner, OO7, to conserve energy for our City Wild Nighttime Tour. This one is way out of the box. You have been warned! Survivors will regroup, refresh and reload at Café du Monde.
Same time tomorrow, Mrs Bell?
Saturday, October 25: The morning dawns on Mr. Big's Gonna Take Care Of You Tour, visiting more Live and Let Die locations in the company of experts who may or may not be in The Company. After lunch, Solitaire's Impertinence Tour offers surprises, particularly if we can't locate Strutter or Hamilton. Then comes a fan group dinner, followed by our Late Night Adventure in your choice of novel or movie costume, casual or formal wear–or wear nothing at all–it's a free country! Prizes awarded for best and worst costumes. (Yes, you must wear clothing.)
Felix, find out if there's a Fillet Of Soul restaurant in town.
Sunday, October 26: Enjoy your morning at our Authors' Bodacious Book Signing and Q&A with several spy scribes. Get your volumes etched in person. (Surcharge for any inscriptions beginning with "Your obedient servant…") After, take the afternoon and evening to fly home–Mrs Bell will assist you.
Relax, baby, Mr Big's gonna take care of you in a minute.
Join us to Live and Let 'Leans! Update your zapiska (dossier) for just $75 U.S. per attendee, which includes all four expert-led Bondological tours (Friday's Louisiana Locations and City Wild tours and Saturday's Mr. Big's Gonna Take Care Of You and Solitaire's Impertinence tours), museum admissions, ground transportation, author book signings, prizes and surprises, armament, personal executive secretary and all the usual refinements. Stinger missiles not included.
Recommended French Quarter hotels for (Thursday for early arrivals or) Friday to Sunday, October (23 or) 24 to 26, 2014:
The Queen and Crescent Hotel (a charming boutique hotel)
The New Orleans Marriott (spectacular views, particularly from rooms on higher floors, not so much from subterranean rooms)
For those wishing to stay more economically,

Live and Let 'Leans

offers rooms outside the French Quarter for between $30 and $50 nightly per guest, including taxes and amenities like free breakfasts and free shuttles to all Live and Let 'Leans tours and events (contact M, fire a flare or key the exploder button)
Saturday's Walking Tours:
Within the French Quarter are frequent street closings and gridlock. Saturday's Mr. Big's Gonna Take Care Of You and Solitaire's Impertinence tours will be at a very relaxed walking pace (fans have been known to fall asleep and be placed in funeral processions). There will be frequent rest, photo and snack stops, as well as significant personal property destruction. Friday's tours are by vehicle with (most of) the ejector seats removed.
**
Your host, M, has led numerous spy tours for fans from across the US, Canada and as far as Europe and Asia, to visit hundreds of movie and novel locations. And this time, M joins authors, experts and "Bondologists" to help you Live and Let 'Leans…
…But M says without you he fears for the security of the civilized world. Join us in New Orleans, OO7! Or get more information first then join us via credit card, check or blue-white flawless diamonds between three and eight carats, by contacting:
M's desk c/o Eve Moneypenny
(USA) 352.871.0967
Laissez les Bond temps rouler!